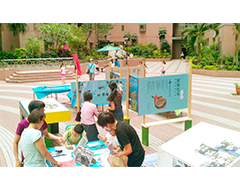 Duration of residencies:2015.6.28-9.6
Location:Centre for Chinese Contemporary Art (Market Buildings, Thomas St, Northern Quarter, Manchester, M4 1EU, UK)
Content:
Micro Micro Revolution aims to discuss the power of art through three socially-engaged art projects from Taiwan: "A Cultural Action at the Plum Tree Creek", "Plant-Matter Needed" and "500 Lemon Trees". They are all long-term, process-based and participative projects that see art as a vehicle for addressing environmental issues, as a form of resistance, and as a platform for exchange. Rather than taking a provocative position on social issues, these projects take another approach: soft strategy, eco-friendly attitude.
This exhibition will present some social and cultural aspects of Taiwan to UK audiences. Micro Micro Revolution will include a symposium, workshops, and events that will provide a platform for discussion around the key aspects of the exhibition and eventually develop new collaborations and dialogues between Taiwan and the UK.
3 July - 6 September, 2015
Preview Launch: Thursday 2 July, 6-8pm
Curator: Lu Pei-yi
Micro Micro Revolution is supported by
Spotlight Taiwan