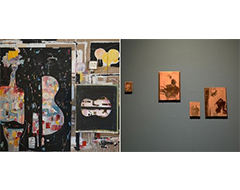 Duration of residencies:Aug. 9 ~ Sept. 7, 2014
Location:Cuchifritos Gallery + Project Space (120 Essex Street NY)
Content:
Two Taiwanese artists participating in a residency project in New York will hold a month-long exhibition that transforms an art gallery from static space to the centerpiece of attention.
Thirty-four-year-old photographer Chu Yin-hua (朱盈樺) and 26-year-old mixed media artist Huang Ta-wei (黃大維) are currently tailoring their four-month residency at Residency Unlimited, a creative hub in downtown Brooklyn.
Taking the physicality of the art gallery as the exhibition's central theme, the two have decided to create a "no-space" that will serve as a transient stop in-between real-world destinations.
Items salvaged from the local market nearby and old photographs will be used by Chu and Huang to assemble "an evolving installation layered with paintings, drawings, videos, collages, and three-dimensional frames."
Part of the "no-space" concept will be to use the gallery as an actual workshop, blurring the definition and functions of the original space. In a similar vein, only fragments of artworks — including picture frames without pictures — will be displayed.
'Afterimage'
Exhibition Date: Aug. 9 ~ Sept. 7, 2014
Venue: Cuchifritos Gallery + Project Space
Address: 120 Essex Street NY
Opening Hours: Noon to 6 PM (Closed on Mondays)
Website:
Residency Unlimited