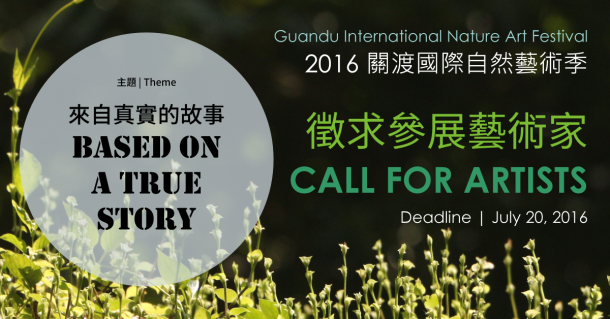 Location:Taipei, Taiwan
Deadline:2016-07-20
Disciplines and Media:Visual Arts,Installation Art,Architecture,Sculpture,Art crafts,Interdisciplinary
Residency Period:49 days (2016.09.20-11.07)
Grant:NTD$ 60,000 for each artist.
Institution Provide:A round-trip airfare (economy class), Accommodation, Materials support, Meals (breakfast and lunch)
Paid by artist:Others
Website:
http://gd-park.org.tw/
Residency:
http://gd-park.org.tw/page/3355
About the program
INTRODUCTION

Guandu Nature Park is inviting entries to 2016 Guandu International Nature Art Festival "Based on a True Story" in Taipei, Taiwan. The selected 5 artists will create their artworks in a natural setting using only natural or eco-friendly materials during a 7-week residency in the Guandu Nature Park. Artists who are concerned about local and global environmental situations are welcome to apply before the deadline on July 20th, 2016.

Guandu Nature Park has held the Guandu International Outdoor Sculpture Festival for the past 10 years (2006-2015). This event is Taiwan's first large-scale environmental art project held in a nature conservation park. It is rooted in Guandu wetland which is rich in estuary culture and ecological value. The aim of this annual Festival is to create dialogues between people, art and nature. Through the discussion of our relationship with the natural environment, we hope to restore the balance between modern society and nature.

From 2016, our project title is changed into the Guandu International Nature Art Festival. On our existing foundation, we will keep on exploring the possibilities for a sustainable future and adopting a more proactive approach to ask people to take action for this future. There will be a 3-step strategy: to comprehend, to connect, and to coexist. In 2016, we're going to put emphasis on comprehending the real situation of nature.

THEME

Nature speaks to us in many ways - visually, audibly, or physically. This year, we choose the theme "Based on a True Story" in hope to listen carefully to the hidden messages behind what we perceive. We invite artists to cooperate with our research staff who devoted to the management and conservation of wetland biodiversity. With the help of our researchers, artists will first have a 10-day field study to better knowing the ecological, historical and cultural situations of Guandu and then choose a proper location in Guandu Nature Park to create site-specific artworks in 30 days that can enhance the public to comprehend the actual environmental situations around us.

We can further summarize issues we concern by adopting biologist E. O. Wilson's acronym for the threats to biodiversity: HIPPO. HIPPO stands for habitat loss (H), invasive species (I), pollution (P), population growth (P), and overharvesting (O). Artists are encouraged to interpret a specific issue through combining field study result and their artwork. The field study result can come from themselves or the Park's research.

CONTACT

Ms. Yi-Fen Jan
festival@gd-park.org.tw
+886-2-28587417 ext. 230

If you have any question or need more information about Guandu Nature Park, please do not hesitate to contact us.