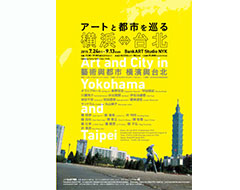 Duration of residencies:2015.07.24-09.13
Location:BankART Studio NYK (3-9 Kaigan-dori, Naka-ku,Yokohama 231-0002 Japan)
Content:

E-Mail:info@bankart1929.com
Phone:
+81 045-663-2812
Art and City in Yokohama and Taipei Exhibition
Whether in urban development, environmental matters, culture or education links between Japan and Taiwan are deeply entrenched. While no formal diplomatic relations between both nations are in place, their longabiding relationship nonetheless thrives on an inter-city and private level.
Given this high level of co-operation, Yokohama and Taipei initiated a series of exchanges projects in 2005. Amongst these was the artist exchange programme between BankART and the Taipei Artist Village, in which the host city or institution offers a residency to a visiting artist for three months during which period they create a work in-situ under the auspices of the Artist in Residence (AIR) programme. This programme now celebrates its tenth year in operation.
Over time the AIR programme has bolstered the relationship between the citizens and the institutions in both cities. However, given that to date it hasn't put too much emphasis on concrete results, the programme remains a little incomprehensible to those from outside. To overcome this, we decided to try and organise the 10th anniversary of this programme with a large-scale exhibition featuring twenty-one Japanese and Taiwanese artists. As the participating artists confront life in a residency abroad, they deal with a myriad of issues on a daily basis; their changing thoughts, their sense of direction in a foreign city, the transformations they undergo or how they chemically respond to new surroundings.
This exhibition will take a dual pronged approach, allowing the visitor to at once glimpse how the artists live and express themselves. In parallel to the artist's exhibition, we will hold an exhibition and symposium on urban renewal program in both cities. In what promises to be a lively debate on the current standing of urban regeneration, architects, researchers and politicians familiar with Yokohama's Creative City Project and Taipei's Urban Regeneration Station (URS) have been invited to attend. It will also provide an occasion to showcase recent developments in the contemporary architecture in Taiwan and Japan. We hope this exhibition concentrating on urban culture and art will form the basis for new avenues of co-operation between Japan and Taiwan.
Dates : 24 July 2015 –13 September 2015
Exceptionally closed between 13 August thru August 18.
Time : 11:00 to 19:00 (Final day closes at 17:00)
Venue : BankART Studio NYK
Admission : ¥1,000 with catalogue
Artists:
JAPAN
オフニブロールo Nibrol | 東野哲史 Higashino Tetsushi|村田峰紀 Murata Mineki | 川瀬浩介 Kohske Kawase|井出賢嗣 Ide Kenj|i 伊佐治雄悟 Isaji Yugo | 幸田千依 Koda Chie|松田直樹 Matsuda Naok|i 磯崎道佳 Isozaki Michiyoshi | サンドラム SUNDRUM|丸山純子 Maruyama Junko
TAIWAN
陳 妍伊 Chen Yen-Yi|賴 珮瑜 Lai Pei-Yu|何 明桂 Ho Ming-Kuei | 陳 宛伶 Chen Wan-Ling|周 育正 Chou Yu-Cheng|陳 怡慧 Chen Yi-Huei | 羅 仕東 Lo Shih-Tung|羅 懿君 Lo Yi-Chun|楊 子弘 Yang Tzu-Hung | 許 喬彥Hsu Chiao-Yen