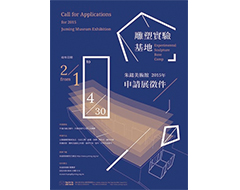 Duration of residencies:2015.02.01-2015.04.30
Location:Juming Museum (20842 No.2, Xishihu, Jinshan Dist., New Taipei City, Taiwan)
Content:

E-Mail:xiuwen.huang@juming.org.tw
Phone:
+886 2 2498 9940 ext. 1516
Ju Ming, the founder of Juming Museum, rose from an apprentice to an international master of sculpture with his own continuous efforts and his predecessors' encouragement and support. In the spirit of giving back to the society and Ju Ming's belief in planting the seeds of art, the call for applications for Juming Museum Exhibition provides the platform for debut and exhibition to encourage contemporary art and explore the possibilities of three-dimensional art. It will elevate the innovative spirit in the art scene and increase public understanding of various art forms.
Artwork:
Works accepted include those that can be broadly defined as sculptural art, such as 3D art, installation art and video recordings. All mediums are accepted, be it indoor or outdoor pieces. However, the pieces shall be unique, innovative and avant-garde.
Eligibility:
Individuals over 20 years old and organizations from Taiwan or abroad are eligible. Those of foreign nationality must reside in Taiwan currently. (Graduation exhibition is not accepted.)
Venue:
The exhibition will mainly be located in Gallery II and partly in the outdoor areas depending on the material and form of the artwork.
Review and Announcement:
The results will be published on the official website of Juming Museum on June 15, 2015 and selected finalists will be notified by mail.
Schedule:
Selected finalists may choose one of the three exhibition periods scheduled by the Museum – September to October, 2015, February to March, 2016 and April to May, 2016.
Deadline and Address:
Applications are accepted from February 1 to April 30, 2015. Please submit the application material in a brown envelope with registered mail postmarked within the application period to: No.2, Xishihu, Jinshan Dist., New Taipei City, Taiwan R.O.C., 20842. Please note on the envelope, "Submission for Call for Applications".
Contact:
Mr. Huang / Exhibition Department, Juming Museum
Tel: (02) 2498-9940, ext. 1516
Fax: (02) 2498-8529
e-mail:xiuwen.huang@juming.org.tw