Conseil Européen pour la Recherche Nucléaire, CERN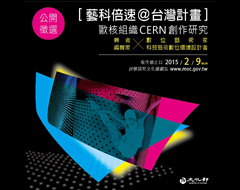 Collide@CERN is CERN's latest experiment in arts and science.
As a main strategy of CERN's Cultural Policy for Engaging with the Arts, Collide@CERN is a 3-year artist's residency programme initiated by Arts@CERN in 2011.
By bringing world-class artists and scientists together in a free exchange of ideas, the Collide@CERN residency programme explores elements even more elusive than the Higgs boson: human ingenuity, creativity and imagination.
CERN