Artist:
CHANG Jui-Pin
Country:
Hungary
City:
Budapest
Residency:
Art Quarter Budapest
Chinese URL:
N.A
Residency Recollections
Introduction

Last year, during my residency in Venice, I met an artist from Hungary. He told me about Budapest, a city with rich ambience of culture and art. I was very intrigued. Through online searching, I found Art Quarter Budapest; in order to learn more about local Hungarian culture and art, I had the idea of coming for residency. After I submitted application, I was invited to Art Quarter Budapest's exhibition and residency program, which lasted two months (August and September).

Art Quarter Budapest is a famous international artist village in Hungary, providing an exchange platform for international and local artists. With much anticipation, I hoped that the residency would bring more inspirations to enrich my creative works.

The train ride from Stuttgart, Germany, to Budapest was ten hours; we made a transfer at Munich, which took us to Vienna before finally arriving in Budapest. The sceneries along the way were simply stunning, especially Austrian mountainous areas. Shortly after our train passed Vienna, we arrived at the border, and we were met by the desolate Hungarian border. For me, who had long lived and travelled in Western Europe, this was a different feeling, and further increased my anticipation.

Residency Exhibition

Art Quarter Budapest (AQB) is a studio remodeled from an old beer brewery situated at the bank of the Danube. It is a 30-minute ride from downtown Budapest. As for living environment, the room was spacious and comfortable. There was a shared living room and kitchen, and three washrooms. The studio was located in another building, and it was also very spacious.

Also in residence during my stay were: British university professor Monica Fischbein; she was Hungarian, and went to Britain for school when she was 19. She studied art and design at Central Saint Martins. After she graduated, she stayed in Britain to teach photography. The theme of her residency was environmental art and cultural photography. Stella Tang was a professor from Lingnan University in Hong Kong. She was engaged in installation art. Kata and Iorry were Romanian artists involved in multimedia arts. There was another sound artist from America, who used various sounds as creative elements. The artists interacted frequently, as we often discussed and exchanged thoughts on our works. We went to exhibitions together, and participated in local cultural activities.

For years I had been living in liberal and democratic countries in Western Europe and North America, so I was very interested in the social conditions and people's thoughts and actions in former Eastern European communist countries, as well as the art, art market, and artists that emerged in such system. This was my first time in Eastern Europe, and I had the opportunities to visit artists and gallery managers in Hungary and Bulgaria. Below are the records of my interviews: their views and narratives reveal the problems faced by the country.

A: Sziget Festival

The most important project over this residency was participating in Sziget Festival.

Sziget Festival is Europe's largest diverse cultural activity founded in 1993. The festival attracted nearly 400 thousand people from over 70 countries. The event was held at the heart of Budapest, on a beautiful island on the Danube. The one-week festival featured continuous activities, and about 200 art groups. Bands performed pop music, rock and roll, electronic, metal, folk music, Jazz, blues, or even classical music.

Sziget was not just about music performances and concerts, it also featured other cultural activities, such as theater, circus, and art shows. I participated in the exhibition at Sziget, and I was very honored to join other famous bands, such as Robbie Williams, and Kings of Leon. I was very happy and flattered, as I was also the first Taiwanese to participate in the festival.

I submitted sixteen works, including a large-scale paper-cutting installation. I utilized paper-cutting, collage, and mixed media to explore issues of online relationship as result of various relationship situations of modern people. Younger visitors were very interested in the work, and I got lots of feedbacks during the exhibition. This not only increased Taiwan's global exposure, but also showcased Taiwanese artists' ability to express ideas regarding different issues.

Sziget Festival was held in an art zone, so all participating works were outdoor installations or sculptures. My works were two-dimensional paintings and installations, so the organizer prepared for me a tent to accommodate my works. This was an outdoor exhibition, so safety and security of the works were major issues. Although the organizer deployed two security guards, due to massive number of visitors walking around, the situation was hard to control; three of my sculptures were stolen during exit in bad weather, some other works were damaged. In addition to reporting the theft to local police, I also issued complaint to the organizer, and asked for compensation to safeguard my rights and dignity.

B: Art Quarter Budapest AIR Joint Exhibition

First weekend of September was AQB's annual artists in residence joint exhibition. I was in the right place at the right time. This AQB exhibition featured half the artists in residence, and half local artists. Because some works had been stolen or damaged at the previous Sziget Festival, so I used this opportunity to carry out performing art using the damaged installations. My work was well-received by fellow artists and audiences, as I conveyed our attitude that artworks and artists deserved respects even if Hungary had once been a communist state. I renamed the work "Rebirth from Fire; Innovation through Destruction." (Refer to video) This incident at Sziget Festival inspired my new creative thinking in frustration and anger, and conveyed my attitude as an artist towards technical issues.

C: Anderson Arts Gallery Achievement Exhibition

By mid September, the residency program was coming to an end. I organized an exhibition at Anderson Research Lab to showcase my works. This exhibition was the continuation of the previous one, and I continued to focus on online dating. This exhibition featured mainly new works created in Budapest. Through collages, I utilized traditional patterns of Hungarian folk arts, such as handmade ceramics and weaving, and the unique bright colors of buildings in Budapest, to give my works new looks. Furthermore, I also made an installation consisting of five water bucket men. Right before the exhibition, I specifically visited Taiwan Representative Office in Hungary, inviting the staff to my exhibition. I was flattered that the office distributed a press release and promoted my exhibition. Here, I would like to thank Deputy Director Lu Hui-hsuan of the Media Division at Taiwan Representative Office in Hungary for coming to my exhibition.

To go along with the exhibition, the gallery specially organized two paper-cutting workshops. The first workshop was targeted mainly at adult participants, and I made two three-dimensional paper-cutting works of Chinese characters "spring" and "joy," hoping that I could introduce to local audience the uniqueness of traditional Chinese culture through paper-cutting tutorial. The feedback was very positive. The second workshop targeted younger participants, and the lively tutorial was another great success.
Images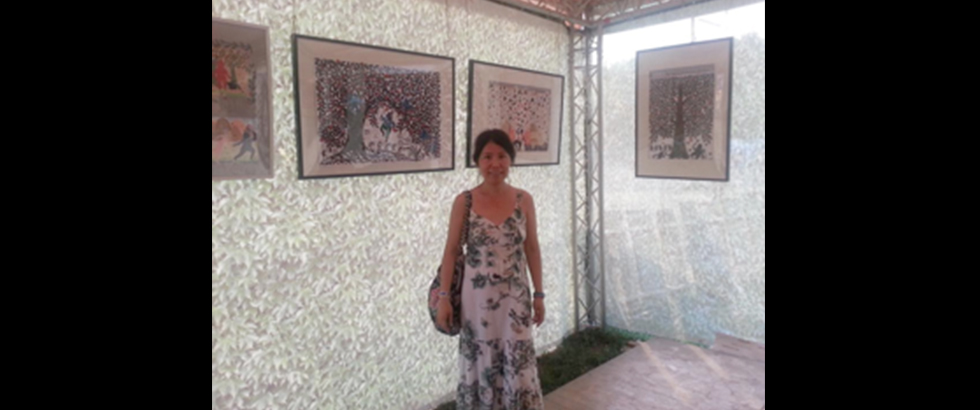 Images Resource:CHANG Jui-Pin