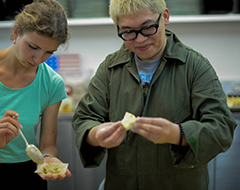 Artist:
LIAO Jiun-Cheng
Country:
USA
City:
New York
Residency:
Watermill Center
Chinese URL:
N.A
Residency Recollections
1. Architectural Space that Echoes the Aesthetics of Theatre

Robert Wilson's aesthetics of theatre are closely related to his background in architecture. Therefore, from the moment you step into the Watermill Center, you will feel how he realized his visual aesthetics in the structure and space: shrubs as tall as people at the entrance, large "empty" spaces, wooden platform, landscape garden full of art installations, and dense trees; the only structures are two three-story modernist-style buildings featuring simple, symmetric, and square-cutting lines. Between the two buildings is a space called "Knee Room" where the floor is covered by large rocks. Wilson believes that, if not for his experience in architecture, his theatrical creations would not have been so different from others' aesthetics. The design of the Watermill Center epitomizes all of Wilson's creative and aesthetic contexts; it is how Wilson produces a dance, a theatrical work, or even an opera.

The main buildings consist of studios of various sizes, temporary exhibition space, open office area, kitchen and dormitory for artists-in-residence during summer time, an archive of documents and films, and a library of records of the activities of Wilson and partners. The most magnificent feature of the center would be Wilson's collection of thousands of artworks over the span of more than fifty years. Wilson began collecting in his teens, and his collection expanded at a pace of three hundred artworks per year. The scope of his collection covers all continents, from the Stone Age to modern times. Some of the items are worthy to be in museums, especially those pieces of Indonesian culture and contemporary artists, as well as a collection of chairs of Robert Wilson's original design, which is the largest among private collectors. Wilson carefully displays these extremely different objects, emphasizing that there is no cultural hierarchy, or gap between art and life; every piece is given meaning through careful arrangement and dialogues with other objects.

The Watermill Center seems to be Wilson's private museum, and the collection is not just accumulation of handicrafts and artifacts, but an organic body, a medium of art for the exploration of the relationship between men and space. In other words, collecting artworks is an indispensible part of Director Wilson's life. He finds inspirations in this massive collection that continues to expand, including images, actual objects, texts, music, and expressions and movements. In Wilson's world, all elements that make up the overall experience are equally important, regardless of foreground or background, or even the smallest details; they do not compete with one another, but form an abundant synchronized experiential space. Wilson finds inspirations from his close interaction with the items in his collection.

2. More Labor than Creation during Residency

Life at the Watermill Center was very routine and regulated. Artists gathered at 10 o'clock for the morning assembly, and returned to their rooms at 10 o'clock at night. Artists had to work at the studios for nearly 12 hours per day. The daily morning assembly marked the beginning of a day, and all artists would sit by the wall in the pure and spotless space. After the Director of the center discussed the agenda of the day, and distributed work among the artists, Wilson would walk slowly into the room towards his heavy black chair; with no exception, he would begin with silence, and then share with everyone some of his creative experience, stories in life, and news he was concerned with. Or, during improvised demonstrations, Wilson would display his thoughts and aesthetics in a rather random manner. Life at the Watermill Center was obviously the best opportunity to spend time with Robert Wilson, and to get to know him better.

Artists had to share the responsibilities and duties at the center: doing chores, cooking, cleaning, and maintaining the environment and gardens of the center. Daily work included installations for beautification of specific spots, and this was an important part of the residence program. This environment combining life and work reflects the principle of the Watermill Center: artists will be different working in an environment created and maintained by themselves. The residency was somewhere in-between military service and boot camp. There were lots of labor work to do everyday, including planting flowers, painting walls, and carpentry. Most of the time, the artists needed to find time outside of these duties for creative work.

3. Artwork Presentation at the Benefit Gala

Residency at the Watermill Center could be divided into two phases. In the first phase, all artists must be part of the preparation of the Watermill Center Benefit Gala. In the U.S., a private art center and art village is hard to sustain. Therefore, to support the operation of the residence programs and the foundation, Robert Wilson will host fundraising gala every summer at the center. Other than selling dinner tickets, Robert Wilson will pull some strings and ask artists from all over the world to donate their works for the auction that day. Also, around 100 artists of the summer residence program from around the world will not only attend master's seminars and workshops, they will also be part of the creative process of Robert Wilson's works. The artists have an important "mission" at the fundraising gala, as they will serve as the staff and be in charge of the presentation of the artworks that evening.

The theme of this year's gala fundraiser was One Thousand Nights and One Night: Sleepless Nights of Scheherazade. The gala began at 6 o'clock, July 16, and many socialites and celebrities were at the scene, such as actress Isabelle Huppert, film director Jim Jarmusch, and musician Philip Morris Glass. The gala raised 2.2 million dollars. The indoor and outdoor spaces nearly 30,000 square-feet also featured diverse activities including performances, visual and sound installations, performance art, and live bands; there was a total of 27 shows brought together by 100 artists, including a motion portrait made by Wilson himself for pop diva Lady Gaga, Director Jarmusch's live music performance, as well as Sisyphus, a portion of Still Life, the latest work of Greek director and choreographer Dimitris Papaioannou, who was personally selected by Robert Wilson. I also worked together with fellow artists-in-residence for our work, One Thousand and One American Nights. The performance featured two American cultural icons—Mickey Mouse and Ronald McDonald, and used ready-made objects common in life, such as washing powder, toothpaste, cleansing spray, hanger, iron, hair blower, garbage bag, and food. Through arrangement and combination of daily objects, we presented the abnormalities and absurdities in daily life, constructing an "American fable" of over-consumption.

4. Workshops

After the fundraiser, the focus of the residence program shifted to a wide range of workshops. These were called workshops, but we were actually helping Robert Wilson develop new projects in various disciplines. The projects included plays and operas in development, installations, exhibition design, furniture and fashion design, films and videos, garden design, and architectural and urban planning. This year's workshops, such as Wilson's new film in collaboration with director Jarmusch, were mainly paperwork. Wilson hosted meetings to discuss main concepts, and the artists helped with collection and organization of information. Also, Wilson selected artists-in-residence for rehearsals. Usually, the assistant director of the play, choreographer, assistant, and designer would complete the rough script of the play, and utilize the participants of the workshops to rehearse movements or experiment with blocking. The final draft would be videotaped and delivered to local opera house for real opera actors to practice in advance.

The most exciting part of the residency would be my encounter with Greek director Papaioannou, and participation in the workshop led by him. Director Papaioannou is the most important contemporary director and choreography in Greece. In 2004, he created the opening and closing ceremonies for the Athens games, where he flawlessly fused the elements of Greek culture, myths, architecture, fresco, and sculpture with technology and humanity, presenting the world scroll-like performances. The ceremonies were the most impressive Olympic events in the past decade, and catapulted him to international fame. Determined to become a painter when he was a young boy, Director Papaioannou has found another canvas on stage. In his works, the scenes he created using body, stage installation, and object are like moving paintings, constantly bringing new stimulations and surprises to audience. Although he received training in Eastern dancing earlier in his career, but his aesthetics of dancers' bodies are influenced by ancient Greek male sculptures (kouros). In the workshops, I had a peek into his ways of working and creative views, and learned quite a lot. Before he left the center, I specially interviewed him, and discussed his creative career and aesthetics of theatre. The full text of the interview was published in the 2014 September issue of PAR magazine.
Images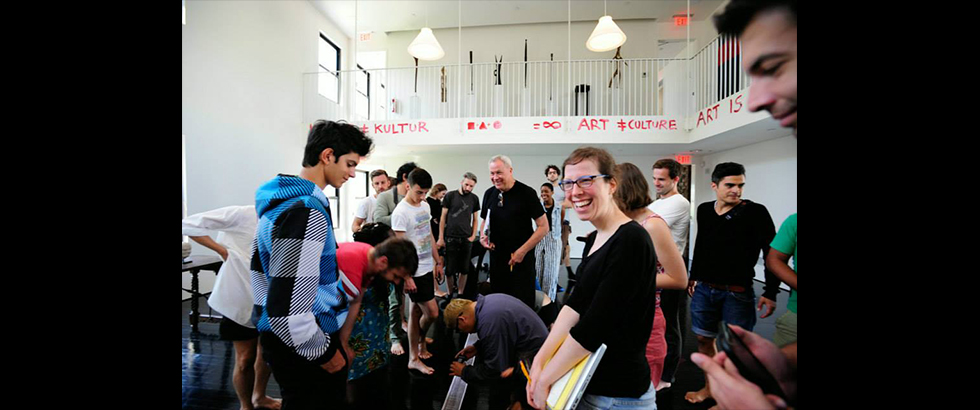 Images Resource:LIAO Jiun-Cheng