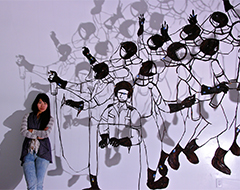 Artist:
LO Yi Chun
Country:
USA
City:
Boston
Residency:
Contemporary Arts International (CAI)
Chinese URL:
N.A
Residency Recollections
My residence program was at Contemporary Arts International (CAI) in suburb Boston. CAI is located at an old mine surrounded by pine forest. With beautiful natural environment and sufficient working space, CAI provides comfortable living environment. There is a train station not far away from CAI, and I could bike there for trains into the city of Boston. The environment enabled me to focus on my creative work, and on holidays I could go into the city to see some exhibitions. CAI is also near Concord, a town rich in history and culture. Therefore, my creative project also included interactions with the local community of West Concord.

Execution Plan:
Banana Justice – The Drama of Global Trades and Riots

My plan included interaction with local citizens. I collected banana peels from a local ice cream shop and supermarket, and I used these collected banana peels to produce installations, consequently starting the exploration and dialogues on art and boundaries of life.

This project originated from my research on banana trade since 2013. Taiwan used to be the Banana Kingdom, with large areas of banana trees planted since the Japanese Colonial period. Banana export to Japan peaked from 1950 to 1970, but later on, due to political factors and Panama disease, production and export of banana decreased dramatically, and Taiwan's role as the leading banana exporter was replaced by Philippines. However, when I came to Greater Boston, I discovered during research that the very first Banana importing company in the U.S., Boston Fruit Co., which was renamed to United Fruit Co. in 1900 and later Chiquita Co. in 1970, was founded in Boston in 1885. Through this research on banana trade, I learned that because this tropical fruit was nutritious and easy to eat, the demand skyrocketed after it was introduced to the American market. However, in the backdrop of this seemingly harmless and delicious fruit was interest exchange between the fruit company and the governments of Central American countries; North America has long exploited Central America, and even launched military interventions. Latin American magical realist writer Gabriel García Márquez (1927-2014) provides implications of the bloody suppression of Columbian banana workers in 1928, an event known as the Banana Massacre, in One Hundred Years of Solitude; Mexican painter Diego Rivera (1886-1957) also satirizes the Guatemalan coup d'état from 1953 to 1954 schemed by United Fruit Co. and intervened by the CIA in Glorious Victory (1954).

During my residency, I studied the bloody history of banana trade on one hand, and considered my creative project on the other. Banana is a farm produce item that feeds millions, and in some areas, it is a staple for the local people. Hidden in the backdrop, however, are many political and economic interventions, which have long exploited farmers and workers, sacrificing them for capitalism. My works originate from environmental art with a focus on decreasing farmland and global food security; I am also concerned with living conditions of farmers and laborers, as well as changes in our environment. I always use local materials as my media, and create with recycled or organic materials. Therefore, as a continuation of my concern with banana trade, I decided to use banana peels for my works.

I began by looking for appropriate partners in towns and cities near CAI, visiting various juice bars, ice cream shops, and supermarkets. I explained to the owners the plan and origin of my art project, and after repeated verbal communication and exchange of emails, I finally gained the supports of an ice cream shop in West Concord, and a supermarket that sold various organic products. Every week or two, I rode to the shops on my bicycle to pick up the banana peels they kept for me. Sometimes I would go to the ice cream shop to bake some bananas, and take home the baked banana peels. I pressed and sundried these banana peels I collected (CAI has enough outdoor space for me to expose these peels under the sun), and in the end, I used these banana peels to make three painting-like installations: History of Banana Republic, Boycott of Market Basket, and Umbrella Revolution in HK. All three works are made entirely of banana peels. I use banana, a common fruit, to present how farmers, workers, and the general public humbly fight against ideologies such as globalization, capitalism, and dictatorship.

Reactions and Critiques by the Media and General Public:

This work was exhibited from November 1 to December 21, 2014. Many guests, including the owner and employees of the ice cream shop that provided me banana peels as creative material, artists from the renowned Boston Sculpture Gallery, and professors at Boston University, attended the opening on November 2 despite heavy snow, and we received phone reservations for the weekly tours every week. Information of the exhibition was also published on Boston Globe West, a local newspaper, and art critic Jane Ingram Allen also interviewed the exhibition, and the full text of the exclusive interview was published on online magazine Art Radar in early December.

This project transcended various disciplines, examining the acquisition and distribution of resources in the capitalist society from the perspectives of food and humanity. Nonetheless, it was also a community interactive project, and when I approached local shops regarding our cooperation, art had already entered life, and generated artistic conversation in everyday life. Americans could relate to this topic deeply; living in a country that consumes massive resources, the unseen humanitarian issues and consumption of environmental resources behind the scene are far beyond our imaginations.

Also, I held a month-long exhibition at the ice cream shop that provided me banana peels. During Banana Justice – Small Drawings with a Big Concern, I had more direct contact with the local residents, giving me a channel to advocate for labor rights and food issues through the creative project.
Images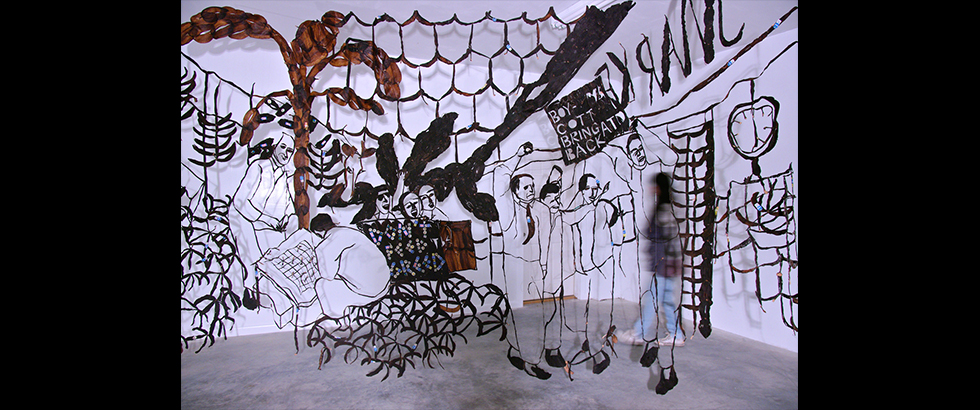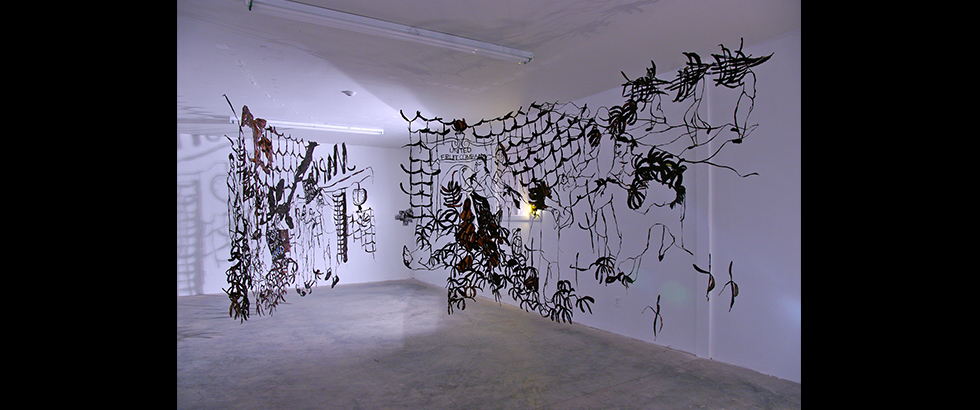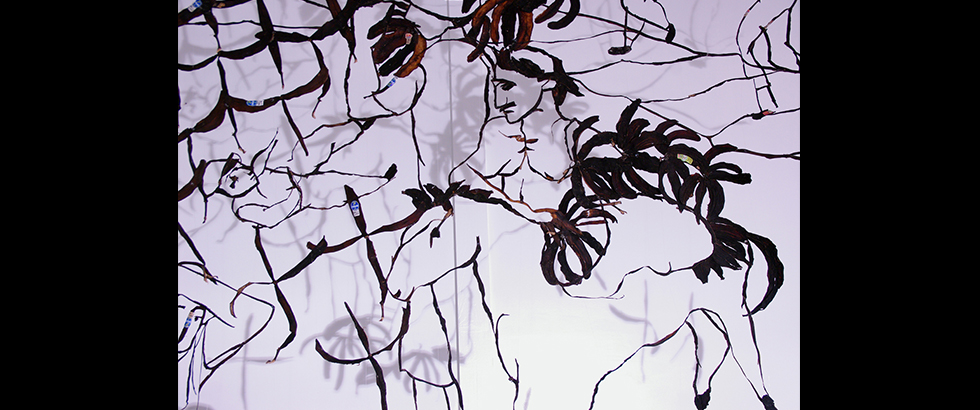 Images Resource:LO Yi Chun