Artist:
WANG Yaping
Country:
France
City:
Paris
Residency:
Cité Internationale des Arts
Chinese URL:
N.A
Residency Recollections
【Life in Paris】

1. When I moved into Cité Internationale des Arts, I was given an artist ID card that allowed me to visit many of the museums in Paris for free. I love contemporary art exhibitions, but they were mostly temporary exhibitions and required admission fees, so I obtained year passes for Tokyo Palace and Centre Pompidou. This way, I would not miss any temporary exhibition. I loved contemporary exhibitions to begin with, but during this residency program, I unexpectedly fell in love with paintings from the Renaissance. The Louvre is within walking distance from the artists' village, and I often wondered into the museum. My interests for the depth of field and cross section of paintings from late 13th to 16th century gradually grew. Art, music, and religion have always been closely related in the history of western music; I felt that, from the single line of the Gregorian Chant to Palestrina's sacred songs in the 16th century, the evolution is similar to that of the three-dimensional structure of painting. Also, I liked to study the position and proportion of Jesus in 16th century paintings, and I found that the appearance of Jesus Christ in these religious paintings resembles the highest note in contrapuntal music (the highest note is the highest in entire music and should not appear randomly; it only appears once and appears at the focal point of intensity), and this climax and focal point of intensive are kept for interesting presentation in future works.

2. Small Paris refers to the twenty districts (arrondissements) of the City of Paris arranged in the form of a spiral, resembling a snail shell; downtown Paris is where most exhibitions and performances are held. However, in recent years, many artists that cannot afford living in the heart of the city have gradually migrated to Montreuil, a suburb of Paris outside of 19th and 20th. French government intends to develop this area into a new cultural and arts district. Montreuil has low rents and local residents are mostly immigrant families of the labor class. This was where I visited the second most during my time there, behind only the downtown area, because there were lots of small contemporary exhibitions and performances. Every single one of those shows was exciting. As most of the families in Montreuil were of the labor class, I received an invitation by a social welfare agency before Christmas, asking me to be part of a charity performance on December 14 with some Indian Odissi dancers, African musicians of drums and string, as well as other musicians from around the world to celebrate Christmas for the kids in advance.

3. In Paris, no only could I see many small avant-garde performances and exhibitions, there were also international exhibitions and shows that had yet to be to Taiwan. There were some wonderful and unique events and individuals in this city as well. For example, I ran into a composer, Philip Glass, in a Paris Métro station; I approached him because I had previously taken his composition class when I was studying in the U.S., and in return, he generously invited me to a private rehearsal of "Einstein on the Beach". In terms of music, this 4.5-hour long opera successfully developed metaphors through sounds. I've always loved the theatrical functionality of music. Also, I was extremely fond of the rich layers of sounds and powerful bass of Hofesh's "Sun"; the rich layers triggered the body language even more, and Hofesh's all-around talent further integrated and coordinated the scene, the choreography, and the sounds. Works like this require the composer and dancers to rehearse frequently and carefully.

For this residency program, I returned to a performer's position many years after I graduated from college. This was a great experience for me, who had been engaged in composition in previous years. As a performer, I improvised and connected with music through an alternative way; it enabled me to sense clearly where the sounds were heading. During improvisation, it is frequent that a performer needs to react and contribute immediately; the performer must also understand how emotional he or she has to be, maintain the balance between own and other sounds, and beware of transitions and the development of motivations. I truly enjoyed the process of improvisation with other musicians. Unfortunately in Taiwan, improvisation is not as robust as it is in Paris, and many Taiwanese improvisation ensembles are actually working with Jazz music; there are very few improvisation musicians who are truly free. In the future, I hope to introduce the public improvisation music, and I also look forward to extend my "Ma chambre" project to other countries.

I've made breakthroughs from traditional yangqin techniques and developed new formats (tanlun technique on woodblock, and guazou technique using the end of hammers and the bass section) for improvised performance of yangqin. Also, in terms of experimenting sounds, I've explored changes in tones and sounds of yangqin (added objects and using installation of yangqin for sections of repeated high notes). These interesting findings will be presented in my new yangqin composition, which I've already begun composing. The temporary plan is to go back to Paris in July for rehearsal, and the work will be publicly performed in a theatre at the end of the year.

People say, "travel is a means to home" and returning to this soil allows me to have a better idea of who I am, and the connection I have with the land. I have been a part of Mauvais Chausson Dance Theatre's "Story of the Earth" project for over a year now, and in June this year, I composed new dance music for Mauvais Chausson. Choreographer of this work, Lin I-Chin, was in residence at Cité Internationale des Arts in 2010, and we shared a lot about our experience abroad, and the Taiwan we saw upon our return. We also co-created this new work for the dance theatre, which took place at Wellspring Theater on June 29.
Images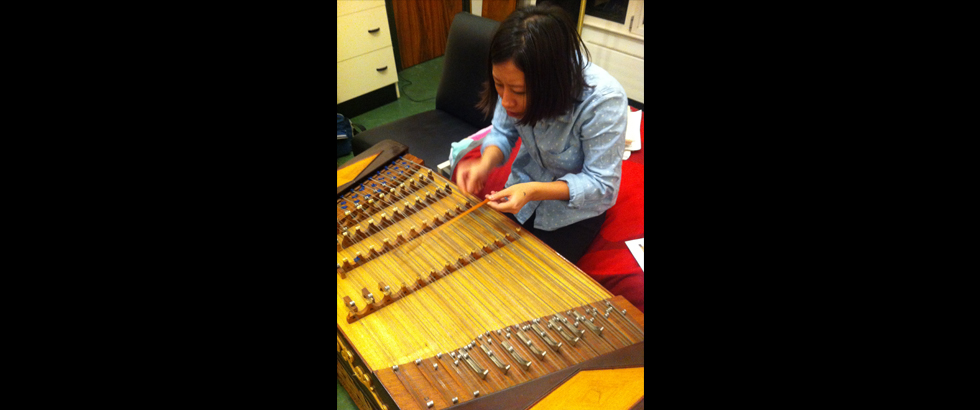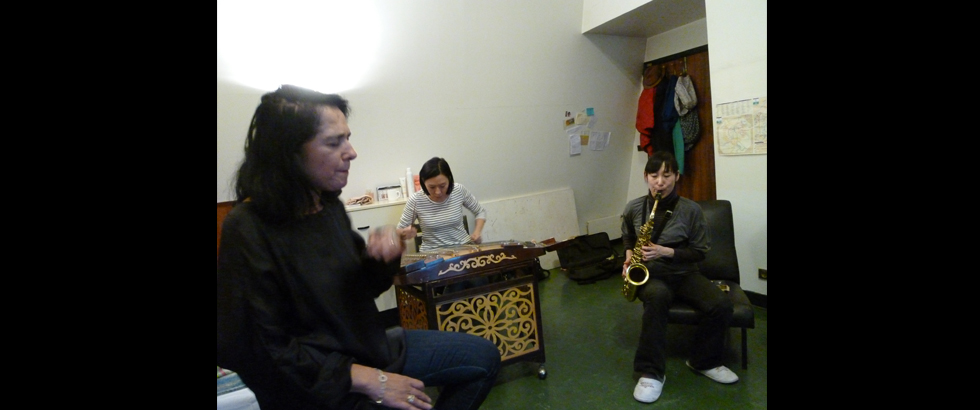 Images Resource:provided by WANG Yaping