LIN Yi-Kuan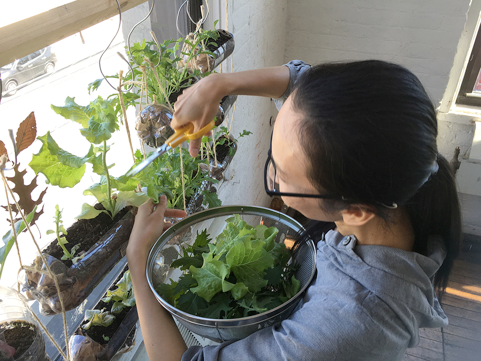 Name: LIN Yi-Kuan
Residency: ISCP, International Studio and Curatorial Program
Country: USA
City: New York
Residency Period: 2016/4~2016/8
Disciplines and media: Curating/ Research/ Critics
Works in residency: The Tree of Mutualistic Genesis, The Milky Way on the Ground
FB/LinkedIn: N.A
Personal Links: N.A
Chinese URL: http://artres.moc.gov.tw/portal_c1_page.php?button_num=c1&cnt_id=193&search_word=&search_num=
Artist Statement

Born in 1981 in Tainan, Lin Yi-Kuan graduated from the Department of Art Education at National Hualien Teacher's College, Taiwan, in the year of 2004. She currently works and lives in Tainan. Her articles are published in art magazines such as Artist (Taiwan), Art Accrediting (Taiwan), Artitude (Taiwan), Life Magazine (China), Photo Magazine (Hong Kong), and the column "tuì-huann" in the magazine Soguide (Xiamen) during 2010~2012.

Thoughts on Residency Program

There are some New York-based groups dedicated to promoting organic agriculture, urban agriculture or rooftop gardens. I originally planned to take part in these groups' agricultural endeavors as the objective of my residency project, yet "agriculture" per se is time-consuming by nature. It may take months from sowing and germinating to thinning out sprouts and harvesting. On top of that, the crop plant varies widely according to the area where it grows due to climate and diet differences. As a consequence, I must do on-the-spot investigation into the gardening shops, supermarkets and farmers' markets in the city of residence, so as to quickly grasp the features of the local crop plants. From data collection to practice, this project inevitably took time.

The experience I would like to share with other applicants is that it would suffice if you draw up a general plan concerning your own oeuvre or a pet subject. Everything you see and experience in the country of residency will be strange and novel. You need not insist on sticking to your original plan, otherwise you may miss some serendipitous discoveries or flash of creativity ignited by the new environment. Unexpected surprises or the twists and turns in your life will offer you many possibilities for your output during the residency program.

The current mainstream artistic culture in Taiwan features meaningful dialogue with the society and the public. Many artists who reside abroad also seek to engage in constructive dialogues with the cities they stay in. Nevertheless, such kind of dialogues entails these artists' language skill, residency experience and understanding of the cities. Failing to meet these prerequisites, you may firstly conduct detailed research and gather extensive data, and then, based on the project you're eager to carry out, look for residency institutions or other artists-in-residence from your field for exchange or collaboration. Rather than directly tackling public issues or striving to enter and reform the social system as an outsider-in-residence, that is, to interfere in the affairs you're unfamiliar with according to your limited grasp, the aforementioned approach would make it easier for you to find the entry point of your project and to put yourself in a favorable position of reciprocal dialogue.
Images