CHANG En-Tzu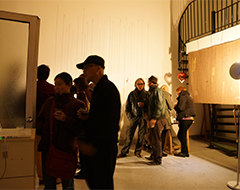 Name: CHANG En-Tzu
Residency: Cité Internationale des Arts
Country: France
City: Paris
Residency Period: 2015/08~2016/01
Disciplines and media: Multi Media,Visual Art
Works in residency: You are never alone
FB/LinkedIn: N.A
Personal Links: N.A
Personal CV Download: download
Chinese URL: N.A
Artist Statement
CHANG En-Tzu (1983- ) was born in Kaohsiung, Taiwan. She is the contemporary Taiwanese artist, versed at mixed media and installation art. In 2008, she received the First Prize of "Kaohsiung Awards: Kaohsiung Museum of Fine Arts" as well as "Art Taipei: Taiwan's Young Artist Discovery Prize"; in 2010, special award of "Journey in My Mind: Open Call for Emerging Artists" in Louis Vuitton The Cultural Space , Taipei ; in 2013, she was invited to participate in the exhibition "All You Need Is LOVE: From Chagall to Kusama and Hatsune Miku" in Mori Art Museum ,Tokyo ; in 2014, held her exhibition in the Cornell University's Herbert F. Johnson Museum of Art, "Jie: Boundaries of Self in Contemporary Art from Taiwan 1995-2013." Her works has been invited and exhibited in Taiwan, New York, Tokyo, and South Korea.

Purpose of Residency

In my works over the past few years, I focused on examining the typical image of princess. It is an ideal that has haunted all Asian women. Recently, I expanded my observation (to include the consumer market and all aspects of life), and shifted my focus onto Hello Kitty. Dominating the female consumers market with the cute image, Hello Kitty also has that magical power. So I realized that, in Taiwan, Disney princesses / Hello Kitty…and other similar ideal images demonstrate "beautiful and happy imagination" projected onto them by viewers: I want to have it / be as beautiful as her / be as cute as her / be loved like her …making them very powerful and influential.

Disney princesses follow classic formula, giving them almost identical fates and qualities: passive / lacks own opinions / the weaker half in a relationship and constantly needs to be saved by the male character. Disney's market continues to thrive in Asia, however, the only Disney theme park in Europe, Disneyland Paris, was reportedly looking for more capital in 2014. This made me think: are we Asians especially fond of the dream of becoming beautiful princesses, or they have a different ideal image for women in Europe?

I went to Paris this question and realization in mind, and observed how a different landscape existed in the foreign culture. I also looked forward to my exploration in Paris as I took on a different standpoint to examine the image / symbol / notion of people's imagination of a beautiful woman. I also explored more creative possibilities for materials and formats, and I believed my experience would generate rich creative experience and energy.

Thoughts on Residency Program

In Paris, I gradually developed a perspective for observation through conversation with local artists and friends, as well as onsite visits: merchandise / visual images outside of Disneyland, in general, did not emphasize the image of princess in Disney's fairytales; instead, they were mostly simplified symbols, such as stars, flowers, decorative lines…and so on. Becoming a princess remained a childhood dream, and the adult world was more drawn to simplicity and elegance. In secondhand markets, I could sometimes see some Snow White dolls, but their faces were all different; this was perhaps due to different imaginations of the image of a princess compared to Disney's animated characters. These dolls revealed the image of women that was more "natural / realistic."

So in comparison, in Europe, or in Paris, the dream of becoming a princess shared by Asian women was not mainstream. European women do not recognize with the weak and tender image of princesses who always needed to be saved by princes. They look up to independent and mature women. Observing pedestrians in the streets, women of different ages dressed according to their ages, even grandmas exhibited unique charms.

Through my observation during the residency program, I could vaguely sense symbolic elements in the real environment, reminding us of the shared circumstances of all people. Living in Paris, a city full of history, I could sense more symbols beyond fairytales revealed through shared images, such as divine creatures / plants and flowers / monuments. These were all wonderful symbols that embodied collective consciousness. A different perspective allowed me to take a break from my pursuit of the image of princess, reducing the significance of the dream of princess, and shift my attention to the historical memory and living conditions of the place I stayed in.
Images