CHANG Chien-Hao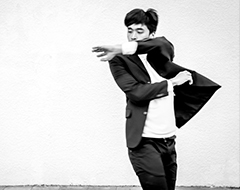 Name: CHANG Chien-Hao
Residency: American Dance Festival ICR Program
Country: USA
City: Durham
Residency Period: 2014/06~2014/07
Disciplines and media: Dance
Works in residency: "Return", "A solo dance"
FB/LinkedIn: https://www.facebook.com/chienhao.chang.1
Personal Links: N.A
Personal CV Download: download
Chinese URL: N.A
Artist Statement
CHANG Chien-Hao graduated from the Taipei National University of the Arts. Upon his graduation, Chang has been an active freelance dancer and participated in rehearsals and performances in various dance companies, as well as international dance competitions and invitational performances. Chang is currently the resident artist of Chang Dance Theater. In 2011, Chang co-founded the Chang Dance Theater with his younger brothers, Chang Chien-Chih and Chang Chien-Kuei. In 2014, Chang took part in the American Dance Festival as an international choreographer with the support from the Ministry of Culture's "International Artists-in-residence Grant." In the same year, Chang received the Ministry of Culture's "My First Show Grant" and created the work, Return.

Artist's personal feedback:

During my residency, I presented two works. Return – Explore the Body, was presented on July 21, 2014. Originally, I was to present the work at ICR Showcase with nine other resident artists. The concept was simple, "The body built by bones, and we build the space." The creative motive was to simply use the body as the starting point. From constructing the bones to the formation of the body, I went beyond the body to the space around, and tried to return to my own body. Firstly, I tried to develop the movements. From these movements, I explored and built their relations to the space, and constructed a set of logics. For example, during the early development of the work, I established squares in the space with different parts of body or moved and pushed around this square to create a set of movements. I demonstrated these movements to other dancers that they could practice and adopt the logics. In the end, I wihdrawed all the movements demonstrated to the dancers and allowed the dancers to interpret on their own in this set of physical logics. The work was originally set to be 30 minutes in length, but was shortened by the ADF organizer to a ten-minute version due to the time constrains of the entire event in the evening. As a result, I developed another independent work based on my exploration of body.
Images