CHUNG Wen-Yin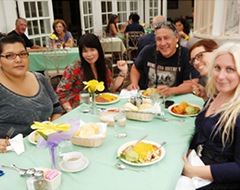 Name: CHUNG Wen-Yin
Residency: Santa Fe Art Institute (SFAI)
Country: USA
City: Santa Fe
Residency Period: 2014/07~2014/09
Disciplines and media: Literature
Works in residency: Writing on the Island
FB/LinkedIn: N.A
Personal Links: N.A
Personal CV Download: download
Chinese URL: N.A
Artist Statement
CHUNG Wen-Yin graduated from the Department of Mass Communication at Tamkang University. Chung studied oil painting at Chinese Artist Alliance of New York City. She is now a renowned writer of novels and proses and a freelance photographer. Painting has still been a major hobby in her life. For years, Chung has been travelling around the world on her own and participated in writers' programs or cultural exchange programs worldwide. She also chairs lectures such as "Reading and Writing" in various universities in Taiwan.

The recognitions of Chung's achievement included the Joint Literature Awards, China Times Literature Award, United Daily Literature Award, World Chinese Fiction Prize, Yunlin County Cultural Award, Wu San-Lien Literature Prize, and Lin Rong-San Literature Award. In 2006, Chung's novel Decayed Lust was honored as one of the Top Ten Chinese Fictions. She has been dedicated to writing and has published many short story collections, novels, and prose collections. Chung demonstrates both high productivity and quality. In 2011, Chung published the work, Island Trilogy: Decayed Lust, Decayed History, and Decayed Land, which garnered her much attention and praises. The trilogy was nominated for the Golden Literature Award and has been published in simplified Chinese, Japanese, and English.

The artist's personal feedback:

For artists, overseas residency experience is significant in terms of cultural exchange. Santa Fe has dynamic art circles where artists encounter and mingle, and where art fairs prosper. It is a charming city providing "visual" stimulations and cultural exchange.

Due to the inconvenience of the public to the hosting institute, Santa Fe Art Institute, the resident artists must keep high mobility and capability to live independently in order to explore broader horizon and conduct in-depth interactions. As I am very experienced in travelling alone, coupled with my passion and exploration in visual art and photography, it was a very rewarding experience by which I could integrate literature, painting, and photography in my production. I gained the experience of being both a "wanderer" and a "visiting resident."

Through this in-depth residence experience, I was able to interact with and be inspired by the local people, and discover stories. It also provided a more profound perspective for me to reflect upon in my literary work and topographical writing when I write for the island (of Taiwan). I tried to write and communicate the ideology between the East and the West as derived from my own island country and my residency experience. In the meantime, the field research conducted during my residency into the people, the places, and the stories; has inspired and imparted me with a new vision and imaginations.

In addition to interacting with resident artists from other countries, I also learned about the local art and culture. Also, through "street interviews," I chronicled the people I met and their stories, and indulged myself in the natural environment and landscapes through the pleasure of observing and photography.
Images