Homi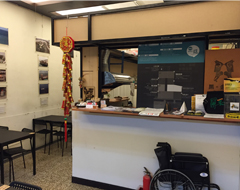 Date established:2013
Country:Asia - Taiwan
Type of Organization:Independent Association
Disciplines and Media:Interdisciplinary
Contact information:

Name of residency:2015 City Enzyme AIR
Address:No.58-3, Zhongshan Rd., Pingtung City, Pingtung County 900, Taiwan
E-mail:homi@homi.cc
Website:
http://space.homi.cc/
Phone:
+886 8-7666348
Fax:
+886 8-7666347
General Information
Homi finds home in a refurbished old building close to the Pingtung Train Station in downtown Pingtung. It is situated next to a group of 72 historical buildings that dates back to the Japanese Occupation Period.

Homi aims to become a vehicle for initiation, action, and public involvement in the arts. Through artist residency programs, social practice projects, FabLab, as well as regular exhibitions and lectures, Homi hopes to revitalize the artistic energy in the city and bring forth the potential for productive collaboration among residents in the area.
About Residency
It's a new vehicle and a new beginning. Experiment for real: ready, set, go!

Starting from 2015, Homi attempts to connect with the outside world through opening up our space. As the space itself waits to be utilized by different groups of people, we also proactively seek collaboration with various individuals and communities. A stronger and broader bond with our partners could thus be established, and more possibilities could flourish within the fluidity of our different modes of collaboration.

Homi offers programs such as "skills in exchange of accommodation" as well as "books in exchange of accommodation." We invite all to experience Pingtung and to share talents and ideas with more people.
Residency programs
Duration of residencies:

Beginning from June of 2015 with the maximum of 3 months

Number of artists resident at one time:

4 (We welcome group and emerging artist)

Grants available:

Free Working Space,Free Living Space

Expenses paid by artist:

Travel and living expenses
Application:

1. All year 2. Open Call 3. By invitation or recommendation from other organizations in another country

Selection procedure:

Application reviewed by committee

Expectation from the artists:

All AIR projects should be based in or related to Pingtung. Interactions or collaborations with the local communities are required. The city itself is an exhibition ground. Connections can be made via public exhibitions, lectures, workshops, and other forms of activities.

Presentation of artists' work:

Providing assistance in artists' exhibitions and performances.
Description of residency
Setting:

Rural

Working Language:

English,Mandarin,Japanese

Resources:

Laser cutter, CNC, woodshop, 3D printer

Number of studios:

The rooftop studios

Facilities:

Laundry, and bathroom facilities.
Size of studios / Type of Sudios :

Indoor studio: 33 sq meters. Outdoor patio: 33 sq meters. / Live-work space,Multi-functional, shared, indoor/semi-outdoor spaces.

Accommodation:

Shared Room,4-person dorm. Bunk beds.

Companions allowed:

Yes
How to reach
Nearest international airport:

Kaohsiung International Airport

Nearest local airport:

Kaohsiung International Airport

Nearest train station:

Pingtung Railway Station

By Car:

N.A