Mite-Ugro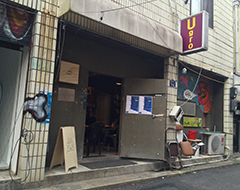 Date established:2009
Country:Asia - Korea
Type of Organization:Non-Profit Institution
Disciplines and Media:Visual Art
Contact information:

Name of residency:Doing Nothing Residency
Address:308-33 Daein-Dong, Dong-Gu,Daein Art Market Gwangju, South Korea.
E-mail:miteugro2016@gmail.com
Website:
http://mite-ugro.org/
Phone:
+82 70-7782-3900
Fax:N.A
General Information
Mite-Ugro is a non-profit art space and organization comprised of exhibition space Mite and Community space Ugro. It is established by local artists and curators in 2009, and located in traditional market of old downtown where the Korean government's projects (Gwangju Biennale, Asia Culture Center, etc.) are in force. Since its inception, the space is continuing various and experimental activities like supporting emerging artists, international exchange program, and independent curator workshop. In addition to this, they organize critic seminar and publish quarterly art&culture criticism magazine with Space Heem (Busan) and D.A.aura (Gwangju) to contribute to critical debates in local area. Mite-Ugro also carry out exchange with other art spaces and artists based in Asia through 'Doing Nothing Residency'. For 2016, they are curating and organizing The 11th Gwangju Biennale Monthly Gathering as local curatorial associate.
About Residency
Mite-Ugro is a non-profit art space and an organization that is located in the traditional market at the center of Gwangju downtown. Mite-Ugro was established by the will of the artists and the curators.

We are working on international residency, supporting emerging artists, international exchange exhibitions, independent curators workshops, monthly gathering program, etc. We are striving for artists exchanges and culture exchanges through the residency program which is based on Asia. We have gallery, café, archive library, and guest house.
Residency programs
Duration of residencies:

Between 1 and 3 months

Number of artists resident at one time:

1-3

Grants available:

Free Working Space,Free Living Space

Expenses paid by artist:

N.A
Application:

A.S, Portfolio, Proposal, C.V (Free Form)

Selection procedure:

Selected by Committee

Expectation from the artists:

N.A

Presentation of artists' work:

N.A
Description of residency
Setting:

Urban

Working Language:

English,Korean

Resources:

N.A

Number of studios:

N.A

Facilities:

N.A
Size of studios / Type of Sudios:

N.A / Private Studio,Shared Studio

Accommodation:

Private Room,Shared Room

Companions allowed:

Yes
How to reach
Nearest international airport:

Incheon International Airport (ICN)

Nearest local airport:

Gwangju Airport (KWJ)

Nearest train station:

Gwangju Station (KTX)

By Car:

N.A
Images Resource:Mite-Ugro